Smoking Fetish Phonesex finds me taking a sexy drag off my smoke. Sitting on a bench in nothing but, my sundress on a cool afternoon. I take out a thick cigar and bring the tip to my lips. My pink lips wrapped around the end as you give me a light. Inhaling deeply as I blow the sweet smoke on your hard cock. Stroking your dick nice and slow as you watch me smoke this big cigar .
You can't help thinking about my lips wrapped around your cock as I suck the tip and smoke. My lips kissing the end as I look into your eyes and lick the tip. We both have an oral fixation, don't we? You get down on your knees and start to kiss my wet pussy as I take a long drag. Your tongue licks my clit as you breathe in my sweet smoke and pussy.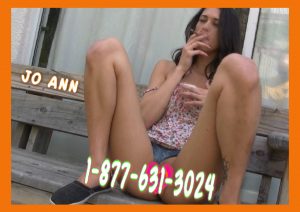 That's right, eat my cunt good with my lips wrapped around this big cigar. You have to earn your reward. My mouth around your cock with my head bobbing up and down. You want me to suck on your hard cock so bad as you watch me with this cigar in my mouth. My tongue swirling around the end. I know you love joining me for smoking fetish phonesex.